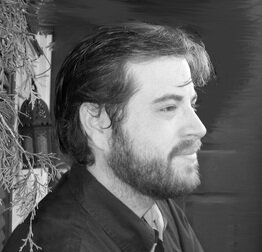 Welcome to my page! I work as a freelance editor, writer, tutor, and writing workshop leader. I also teach poetry and poetics at Reinhardt University and (starting in fall of 2017) at Emory University. I live in Marietta, Georgia, along with my beautiful wife, Michelle Wright, a fiction writer.

In spring of 2016 I served as Writer-in-Residence for The University of Tennessee.

Numerous universities have contracted me to teach master classes in a variety of genres, and in addition to writing poetry and fiction, I co-translate German and Austrian poetry from the Expressionist period with Martin Sheehan of Tennessee Tech University. I regularly teach popular poetry workshops in the Atlanta area. I am founding editor of Town Creek Poetry and series editor of The Southern Poetry Anthology. I find most joy in collaborating with like-minded writers and in learning of my students' literary successes.

A few specifics: My full-length books--published and forthcoming--are Self-Portrait as Late Autumn Frost (Iris Press, forthcoming), Specter Mountain (co-authored with Jesse Graves, forthcoming from Mercer University Press, 2018); Creeks of the Upper South (co-authored with Amy Wright--Jacar Press, 2016);Tree Heresies (Mercer University Press, 2015); Night Field Anecdote (Louisiana Literature, 2011); Bledsoe (Texas Review Press, 2011); and Dark Orchard (Texas Review Press, 2006). My chapbooks are April Creatures (Blue Horse Press, 2014); Xylem & Heartwood (Finishing Line, 2012); Sleep Paralysis (Winner of the South Carolina Initiative Prize, Stepping Stones Press, 2012); and The Ghost Narratives (Finishing Line, 2008). The Southern Poetry Anthology, published by Texas Review Press, now consists of seven volumes: South Carolina, Mississippi, Contemporary Appalachia, Louisiana, Georgia, Tennessee, and North Carolina.

My writing has appeared in The Oxford American, Prairie Schooner​, The Kenyon Review, Crab Orchard Review, Indiana Review, Shenandoah, The Southern Poetry Review, Epoch, Antioch Review, and many other journals.

In 2016, I won Georgia Author of the Year from the Georgia Writers Association, as well as a prize from the Georgia Center for the Book that named the fifth volume of The Southern Poetry Anthology, Volume V: Georgia (co-edited with Paul Ruffin) "a book all Georgians must read." I have won prizes from many literary journals, the most recent being the Terrain.org grand prize for poetry (judged by Eamon Grennan).