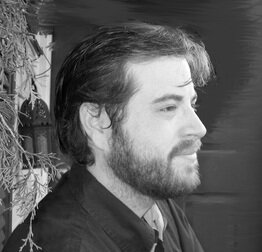 Welcome to my page! I work as a freelance editor, writer, tutor, and writing workshop leader. I live in Marietta, Georgia, along with my beautiful wife, Michelle Wright, a fiction writer.

Great news! I was recently selected to serve as the Writer-in-Residence at the University of Tennessee in Knoxville during the spring term of 2016, where I will teach the advanced poetry seminar for graduate students.

Numerous universities have contracted me to teach poetry master classes, and in addition to writing poetry and fiction, I co-translate German and Austrian poetry from the Expressionist period with Martin Sheehan of Tennessee Tech University. I regularly teach popular poetry workshops in the Atlanta area. I am author of seven collections of poems and editor of six editions. I am founding editor of Town Creek Poetry and series editor of The Southern Poetry Anthology. I find most joy in collaborating with like-minded writers and in learning of my students' literary successes.

A few specifics: My four full-length books are Tree Heresies (Mercer University Press, forthcoming), Night Field Anecdote (Louisiana Literature, 2011), Bledsoe (Texas Review Press, 2011), and Dark Orchard (Texas Review Press, 2006). My chapbooks are April Creatures (Blue Horse Press, 2014) Xylem & Heartwood (Finishing Line, 2012), Sleep Paralysis (Winner of the South Carolina Initiative Prize, Stepping Stones Press, 2012), and The Ghost Narratives (Finishing Line, 2008). The Southern Poetry Anthology, published by Texas Review Press, now consists of six volumes: South Carolina, Mississippi, Contemporary Appalachia, Louisiana, Georgia, Tennessee, and North Carolina.


I serve as a assistant editor for Shenandoah and have reviewed poetry and interviewed poets for Oxford American as a contributing web columnist. My work has appeared or will soon appear in The Kenyon Review, Crab Orchard Review, Indiana Review, Shenandoah, The Southern Poetry Review, Epoch, Antioch Review, and many other journals. I am now in the process of editing two of The Southern Poetry Anthology volumes (North Carolina and Texas, respectively), as well as two distinct volumes. In 2012, I won the Porter Fleming Prize for Poetry.